"Begg is one of our most significant contemporary experimental composers. A true visionary, Begg has quietly developed his own unique and affecting compositional style and sound." The Active Listener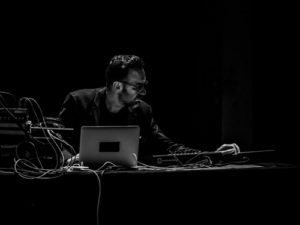 Michael Begg is an award winning composer,  sound artist and musician based in East Lothian, Scotland.
Michael Begg's music is located in the place where formal composition and electronic erosion meet; a liminal space coloured by longing and discomfort.
His longstanding Human Greed collaboration with Deryk Thomas produced 5 albums (Consolation, 2001; Pilgrim: New World Homestead, 2006; Black Hill, 2008; Fortress Longing, 2011, World Fair, 2014) and a further 4 credited to Michael Begg/Human Greed (Dirt on Earth, 2012; OMEGA, 2013, Hivernant, 2015; Let The Cold Stove Sing, 2016) In 2016, he also released A Moon That Lights Itself, a full length recording of a commission from National Galleries, Scotland.
In 2017, he released TITAN: A Crane Is A Bridge,  subsequent to completing a commission from Cryptic for Sonica 2017. The commission comprised an original site responsive work to be situated in the wheelhouse on top of the 150 ft tall Titan Crane in Clydebank, Scotland.
TITAN won the New Music Scotland 2018 Holiday Inn Theatreland Award for New Electroacoustic / Sound Art work.
He contributes to Clodagh Simonds's Fovea Hex, and is a core member of the performing unit that has appeared in Italy, Germany, UK, Spain, Ireland and, notably, in Paris at the Fondation Cartier at the personal invitation of David Lynch.
His Fragile Pitches collaboration with Colin Potter was commissioned by Edinburgh City Council to be performed in the city's St Giles Cathedral and subsequently headlined Poland's Intermediale Festival, and was released as a 2CD in 2008.
He remains closely involved in an ongoing collaboration with Moscow's blackSKYwhite theatre company. Output from the theatre and gallery work can be found on the recordings Omega and Let The Cold Stove Sing.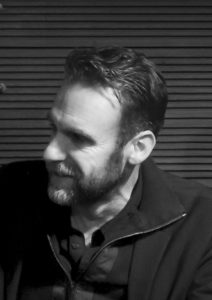 Michael's articles on music and theatre have appeared in Sound on Sound, The Quietus,  Audio Media International, Total Theatre, The Scotsman, Adverse Effect and Paraphilia. The Polish Soundscape Institute translated many of his writings into Polish for their international conference in Krakow, 2015.
In 2016, he was appointed to Creative Scotland's RFO Artistic and Creative Framework Peer Review panel. He is also included among the portfolio of artist educators at Edinburgh's Talbot Rice Gallery.
In 2018 he undertook a composer residency at The Mexican Centre for Music and Sonic Arts (CMMAS), Morelia, where he produced the work, Sonambulo, based on the life and paintings of Leonora Carrington. This residency was enabled through Seeing Hearing UK Mexico a three year programme of cultural exchange initiated by CMMAS, Cryptic, Anglo Arts and the British Council.
In 2019, Michael was appointed as Associate Artist in Residence at the Queen's Hall, Edinburgh, where he currently curates the LIMINAL programme. The residency is enabled through an award from Creative Scotland's Open Fund empowered by National Lottery funding.
Photo credits:
live shot, Berlin (c) Peter Gannushkin, Downtown Music
Portrait, Dublin (c) Laura Sheeran