Highlights from commissioned work:
TITAN: A Crane Is A Bridge – A Cryptic Commission for Sonica – 2017
Electronic installation and instrument creation (Aeolian harps) located in the wheelhouse and the viewing deck of Clydebank's Titan crane.
TITAN won the New Music Scotland 2018, Holiday Inn Theatreland Award for New Electroacoustic / Sound Art work.
Other praise for TITAN:
A magnificently graceful and beautiful sonic document
Norman Records

Begg's extraordinary electronic sound installation… with huge, swelling harmonies, occasionally building to moments of ecstatic beauty… its slow-burn, cumulative effect is one of uncompromising power and inevitable decay, both a celebration of enduring strength and a memorial to its demise
The Scotsman

Begg's installation is perhaps the standout at Glasgow's Sonica… The wheelhouse becomes the humming dark heart of the crane as Begg's electronic enfolding and eroding of the raw sonic materials sets a rich and taut piece in perpetual motion… turning the iconic structure into a gently haunted compound of wind and noise.
The Wire

Delicate and sparse… A great album
Vital Weekly

 With Michael Begg's instrumentation, the Titan Crane feels like a living creature. One that tells us an important story.. if only we listen.
Ambient Blog

Michael Begg makes architecture sing like no one before him.
Stephen Fruitman, Igloo

TITAN also featured in the 5against4 Top 40 Best Albums of 2017
A Moon That Lights Itself – Scottish National Galleries – 2016
Commission for performance of new work for electronics, strings and moonlight, in association with the major summer exhibition, "Inspiring Impressionism"
London 1666 – Artichoke Trust – 2016
Soundtrack and sound design to accompany broadcast and streaming of large scale public event to commemorate the 350th anniversary of the Great Fire of London. See link below for details.
http://michaelbegg.omnempathy.com/2016/09/13/london-1666-recordings/

OMEGA – blackSKYwhite, 2013
Soundtrack and dialogue for Moscow's blackSKYwhite theatre company production of Omega, which previewed at the 2013 Glastonbury Festival and premiered at the Edinburgh International Fringe Festival the same year.
"A black, bleak mash-up of turns set to a full-on score by electronic composer Michael Begg. There's smoke and contortions, a two-headed crooner, a dancing skeleton, and a frenetic nutcase with a feather on his head. Think Tod Browning's Freaks crossed with David Lynch's Eraserhead. I bet Madonna will put some of these tricks into her next tour."

Janet Street-Porter, INDEPENDENT ON SUNDAY

"Driven by the three-way powerhouse of soundtrack, lighting design, and physical action, what looks to be burlesque romp dissolves into something far more dangerous. Omega is a truly total theatre… thrilling, uncomfortable, scary. You will emerge blinking into the daylight shaken and stirred. Be warned."
Dorothy Max Prior, TOTAL THEATRE
Fragile Pitches – City of Edinburgh – 2009
Council/Regular Music / Unique Events commission. Celebrating the city's Hogmanay festivities, Michael Begg and Colin Potter played two sets to a crowded St Giles Cathedral.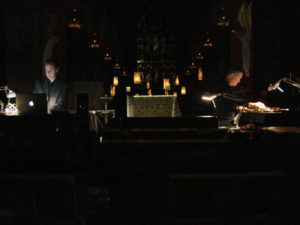 "Fragile Pitches allowed the sizeable audience to breathe deep on its frosty atmosphere. By far the most radical event to grace this year's celebrations… In turns eerie, contemplative and majestically other-worldly… magnificently put the avant-garde into a populist arena without ever labouring the point. Here, then, was a real festival for the people. Which, by definition, constitutes something resembling revolution in its most creative form."
Neil Cooper, Glasgow Herald